KSS manufacture a range of Fire Resistant Roller Shutters under the FIREGUARD brand with both 2HR and 4HR protection. All doors are made in Thailand and are Tested and Certified by the Fire Safety Research Center to British Standards BS476 Part 22 / EN 1634-1 . All doors come with an official certification issued in Thailand. KSS is the ONLY manufacturer and installer of certified fire roller shutters in Thailand. (As of 2019)
FIREGUARD fire roller shutters are constructed from curled interlocking galvanized steel laths with steel end locks, our doors have fire ratings ranging from 2 – 4 hours. They are ideally suited for the protection of large external building access areas and internal building compartment walls to confine an outbreak of fire to the smallest area.
Features:
FIREGUARD Brand – Safety Certified
Solid Steel Construction
Fire Control System
Auto close if power failure
Manual Overide
Heat / Fire / Smoke Sensors
Manufactured, tested and certified to BSI Standards
Tested & Certified in Thailand by the Fire Safety Research Center.
In the event of a fire, any Fire Resistant Roller Shutter that has been left in the open position is automatically closed by a thermally actuated thermal link mechanism. When the temperature of the fusible link reaches a pre-determined temperature, it activates, to rapidly close the roller shutter. Fire Resistant shutters are one of the most effective methods of resisting the intense heat applied to one side of a large area door to the other, without excessive distorting and without affecting the fire integrity of the door.
Safety Matters
The safety of any individual is paramount and when designing a building it is important to consider fire precautions seriously.
Fires cause a huge amount of damage to both property and goods and one of the most common areas for fire spreading is open doorways and poor fire barriers. By using automatic fire doors you can help ensure your property is protected in times of danger.
Our Roller Shutter Doors are designed to withstand temperatures of up to 1100 degrees centigrade and provide an essential barrier against fire spreading.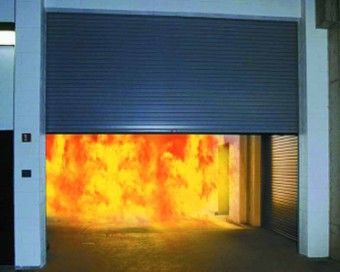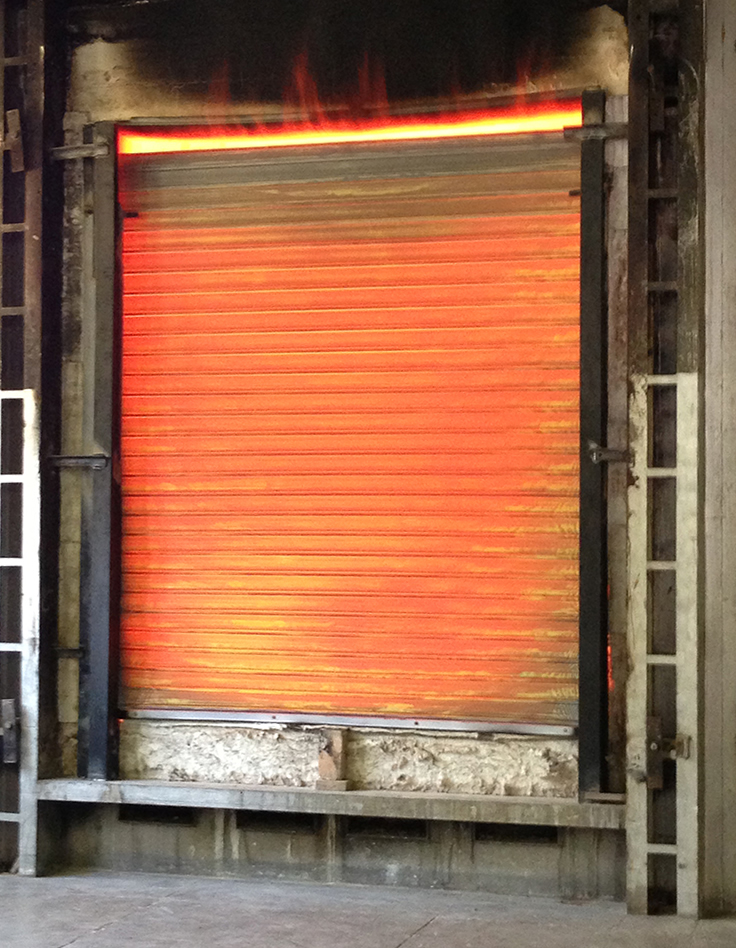 | | |
| --- | --- |
| Slat Material: | Electro Galvanised Steel, Stainless Steel & Colour-bonded Steel |
| Finishing: | Electro Galvanised, Powder Coated |
| Type of operation: |  Automatic Closing. Motorized Operation (with manual operation). Manual Chain Block Operation |
| Maximum Span: | (H) 7m x (L) 14m |
| Time Taken to descend: | <30s |
Fire Doors Manufactured To International Standards with 2, 3 or 4 hour Fire Resistant Level (FRL)