Motorized Awnings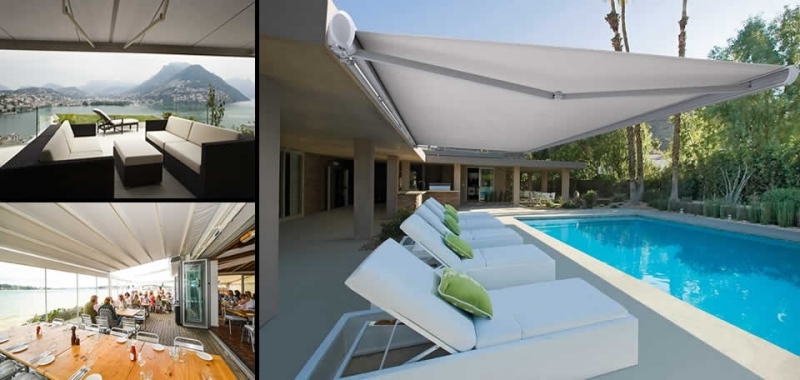 Retractable Awnings or Folding Arm Awnings are a unique and practical way to shade your windows and patios without frames, beams or posts and leaves the area beneath the awning totally free from obstructions. Ideal for entertainment areas such as sun decks, pergolas, pool side and eating areas, retractable awnings are quickly deployed and add a touch of class to any outdoor area.
SKC Provide a wide range of motorised awnings ideal for both domestic & commercial use.
Operations
SKC Awnings can be either operated with a manual crank-drive or motorised. The motorised awning is available with a sun and wind sensor that automatically extends the awning when it is sunny and retracts it in windy conditions. All awnings come with remote controls and wall switches and can easily be linked to Home Automation Systems.
Durability
SKC awnings are constructed from top quality components and are guaranteed to provide years of trouble free operation. We design and install our awnings with consideration for a multitude of different mounting applications and weather conditions. All motors are from certified suppliers and come with full warranty to ensure peace of mind.
Fabrics
The fabric range available is extensive, with numerous colours and patterns available to enhance your properties appearance. Our high quality cloths feature maximum flexibility to ensure the fabric's longevity. The surfaces are treated with protective coatings to help to resist mildew, and enhance water resistance.